We are your competent manufacturer of ULTRA X moisture analysers
ULTRA X laboratory instruments – moisture balance, moisture tester for gypsum, moisture meter with high temperature, incinerator.
Moisture analysis of solids and liquids from temperatures of 40 – 600 °C.
Substances can be dried and weighed at the same time using the highest technical standards for special requirements.
The device for thermogravimetrically measuring moisture is simply a radiant heater placed above a set of scales which displays the weight of solid matter once the moisture has evaporated – a moisture analyser.
In 1950, August Gronert, founder of the ULTRA X company, invented the moisture analysers which function according to this principle. These devices were patented worldwide for many decades and have undergone continuous development up to the present day. More accurate scales, as well as advanced controls and user-friendly drying and operating software are among some of the developments in the special device product range still being extended today.
Since 2001, a&p instruments has been involved in developing the ULTRA X line of products. The inventor's granddaughter is also head of the company's technical department which means a&p has the required expertise.
Browse the shop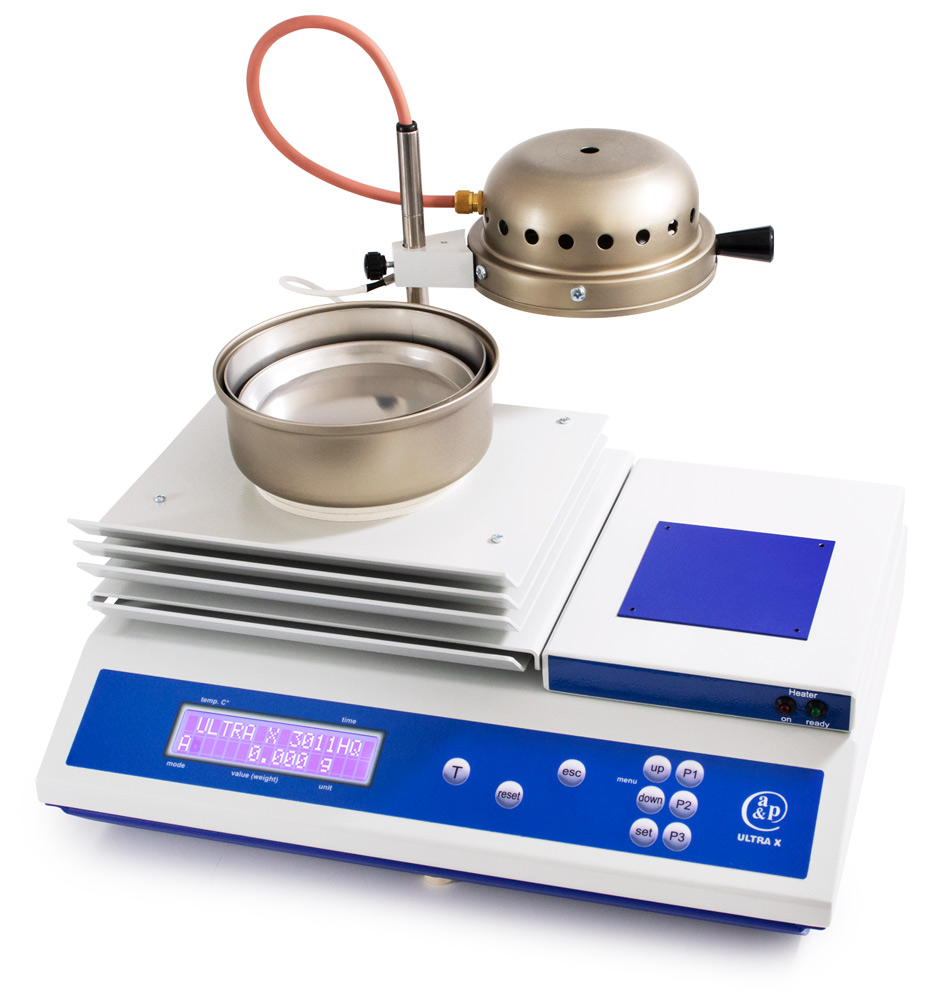 Extensive range of application areas
We are your competent manufacturer of ULTRA X laboratory instruments. In addition to the standard device, the ULTRA X 3011, we also provide special ULTRA X moisture tester models for different requirements tailored to meet specific individual demands. These mainly include the following tried-and-tested devices:
ULTRA X 3031 for testing gypsum with an infrared heater from 40 °C – 180 °C and quartz heater up to 360 °C.
ULTRA X 3081WQ up to 360 °C for determining the pure metal content of e.g. brass chips.
ULTRA X 3011Q and ULTRA X 3011HQ up to 600 °C for determining other substances where extremely high temperatures are required.
ULTRA X 3081 also available with larger weighing capacity e.g. for synthetic granulate, wood chips, grasses, silage etc., with a stainless steel drying bowl 245 x 120 mm.
Easy to operate
Weigh the sample and position the heater over it – the device starts to measure automatically and stops when a constant weight has been reached. The final value is displayed in %. This method is widely accepted as an alternative to the oven drying method and considerably shortens processing times. The ULTRA X moisture analyser means that measurements only take a few minutes. The integrated printer, the ULTRA X 3092, prints out all parameters in line with GLP requirements.
Read more…
Major advantages
Metal casing: heat, impact, scratch and EMI resistant
Low-cost through reusable stainless steel bowls
Robust, accurate, user-friendly, excellent value for money
Individual accessories
DataChannel software for transferring data to a PC
Aluminium foils, foil press
Key technical data
Sample mass up to 400 g
Weighing capacities up to 95 cm³ or 485 cm³
Accuracy 0,00 g / 0.01%
Ash residue analysis
Moisture testing together with the ULTRA X 052 rapid incinerator for incinerating individual samples of organic substances. Two adjustable heat settings. Temperatures of up to 600 °C.
We present: Moisture analyser ULTRA X 3081WQ
Less is more
For monitoring metal swarf. This machine can be used to determine pure metal content.
A sample of up to 220 g is weighed and heated to around 300 °C, so that grease, cooling fluid or added substances are burnt off. The weight reduction or alternatively the metal residue is shown in %.
For years, many well-known companies have been successfully using the ULTRA X 3081WQ around the world.
Product